Jake's Pizza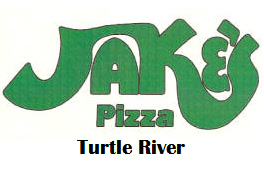 ---
Description
Located 7 miles
north of Bemidji on hwy 71 in Turtle River, Jake Pizza is the areas newest
Pizza join.
Specializing in
hand tossed pizza, and delicious made from scratch starters like jalapeno rolls and garlic
knots. Jake's has section of wine and craft beers to choose from,
Indoor and outdoor seating.


Dine in,
Take-out, or pick up a frozen par baked pizza to take to the lake or
cabin!
Open 7 days a
week.
Phone #: (218)
586-2800
Monday:
11:00am - 9:00pm
Tuesday:
11:00am - 9:00pm
Wednesday:
11:00am - 9:00pm
Thursday:
11:00am - 9:00pm
Friday:
11:00am - 10:00pm
Saturday:
11:00am- 10:00pm
Sunday:
3:00pm - 9:00pm
---
Jake's Pizza Items